Welcome to the Easy Summer Home Styling Tour! I'm so happy to share our outdoor living space on Cape Cod with you all! I'm thrilled to be part of this awesome blog hop today because I want to share a little bit about our exterior back/deck space which over looks a beautiful harbor. On a summer day you can smell the salt air and see campers learning to sail on small sunfish (including my son!). This is our family beach house- it's my parent's home they built last year that I help design and decorate. We spend a lot of time here with my husband and kids, especially in the summer! This special little home represents a place we can escape to, disconnect and spend time together making memories as a family. We spend every July 4th on Cape Cod!
our home is on a sloping property so the back deck is about 20-30 feet off the ground which is why you'll see those protective wires. It's super safe and yet doesn't take away from the view. Our back deck extends the whole back of the home. This specific area consists of a dining space and living space that connects to the home with two french doors and is screened in. Making it a perfect spot to dine al- fresco, play music and enjoy some delish summer time drinks. When we were designing the home I made it a point to include a connection to the kitchen through that window. We added a granite counter and bar stools to transform it into a super functional spot for kids to eat or even as an outdoor buffet/ bar set up. We can simply pass food out from the kitchen instead of walking around through the doors. My kids love sitting and eating here they feel like they're at a diner. Guess who's the waitress 😉
The beautiful white light fixture is from Ikea. We wanted something bright and simple so the focus would be more on the water view in the back yard. We decided to go with black exterior windows just to do something a little different than you traditionally see on Cape Cod. It's a bit modern but the gray shingles tie it back to it's coastal Cape Cod roots.
I recently picked up some outdoor rugs four these two spaces. I'm a firm believer that if you want a space (even an outdoor one) to feel more defined and inviting you need to start with a rug as the foundation. I love that once you add that layer it instantly just pops! In Cape Cod navy is a signature color so we have a bit of it through out the house as well as some other denim shades of blue which I love.
This large wall clock with the anchor I purchased at Christmas Tree Shops and That! last summer, as well as the navy rope plates. I also found these Rae Dunn pillows at T.J. Maxx that say "SAND" and "SEA" I couldn't resist them. I added this beautiful plaid table "throw" as the base layer on the table and it quickly sets a patriotic tone. I like that its a bitt different from a runner but lighter than a table cloth. It looks so pretty thrown off the side of the table too. We had these jute chargers for awhile so I layered them next, then the plates and these cute little silverware sleeves.
I hope you enjoyed stopping by and seeing our Cape Cod beach house all set up for summer! We can't wait to entertain, relax and simply take in the beautiful warmth of this season, that we waited so long for! Do you host any 4th Of July festivities? Do you keep your decor somewhat relaxed or do you go all out?! I hope you will stop by and see the other amazing Summer Home Tours today (all linked below!)
Jordan

SHOP THIS POST
PIN FOR LATER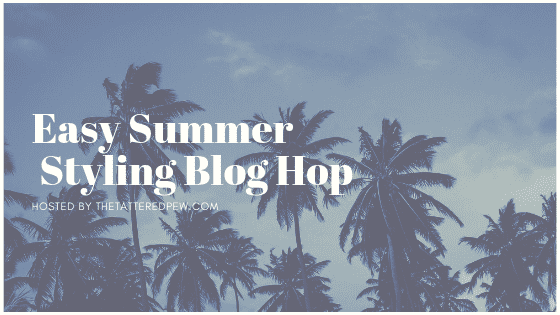 Come enjoy 13 talented bloggers sharing some easy summer styling this week! Sharing with me today are…
Thursday


And sharing yesterday…
Wednesday